West Pitt Lakes & Lodges Blog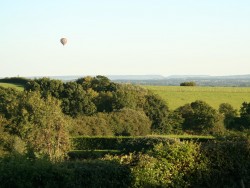 Tiverton Balloon Festival
Friday 12th July 2013
The Tiverton Balloon Festival is underway this weekend with lots to do and see.
The Tiverton Balloon Festival at the grounds of Petroc College, Bolham Road, Tiverton, EX16 6SH is this weekend, 12-14 July, and with perfect weather it should be a great success. There is a fun-filled programme including music, "Taste of the West" Food Pavilion, Westcountry Ales and Cider, Vintage aircraft displays, mountain bike stunt teams, archery, falconry and much more. There will be mass balloon ascents featuring a whole host of colourful Hot Air Balloons.
We are hoping to see some of the balloons from our stunning location at West Pitt Farm in Devon.
Posted in What to do in Devon by Susanne Westgate.
Tags: Tiverton Balloon Festival
Categories
---
By Tag
---
Archive
---