West Pitt Lakes & Lodges Blog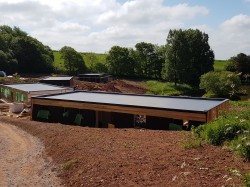 May update
Friday 26th May 2017
Both lodges 1 & 2 are progressing nicely, first fix electrics and plumbing are complete and they have been plasterboarded. The wetroom suites have arrived and will be installed once the tiling is complete. The kitchens are in storage waiting for the windows and doors to be fitted, they are being delivery on June 2nd. The larch cladding and decking are being worked on now.
Lodges 3 & 4 are in the process of being insulated ready for first fix electrics and plumbing. The roofs have been finished.
All of the patio walls are being faced with local stone and are looking great.
Posted in Luxury Lodges by Seb Parker.
Tags:
Categories
---
By Tag
---
Archive
---