West Pitt Lakes & Lodges Blog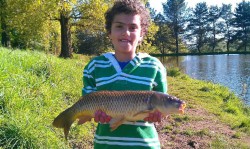 Birthday treat for son
Monday 4th June 2012
Stuart and his son had a great day's fishing...
"I just wanted to thank you for an absolutely fantastic day on Sunday 13th May. We fished from 8am - 8pm and caught somewhere around 100 fish, by far our biggest ever haul! My son had the time of his life and still can't stop talking about what an incredible day it was, and all on his his birthday. We really couldn't have asked for a better day. We came home sunburnt, knackered and with grins like Chesire cats! The ponds and surrounding area are absolutely beautiful and you clearly care a great deal about the whole set-up so thank you for all your efforts. Many thanks again, I'm sure we'll be back soon!" Stuart Eaglesome
We look forward to seeing you again at the Fishery.
Posted in Fishing by Susanne.
Tags: Fishing at West Pitt Farm, Excellent day's fishing at West Pitt Farm
Categories
---
By Tag
---
Archive
---